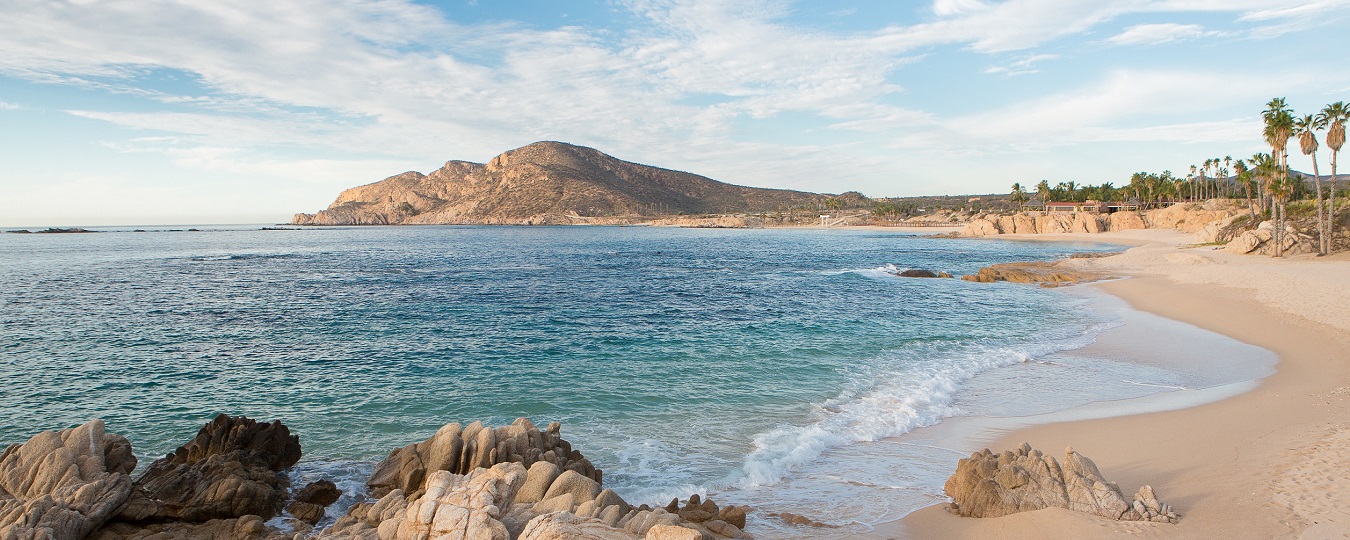 CHILENO BAY
Expect no less with these impressive views in the Chileno Bay communities, along with the many other things you can do there.  Chileno bay is a beautiful beach nestled along the Cabo corridor.  This place offers unique views on the southernmost tip of Baja.  The beautiful Sierra de la Laguna mountain range will make part of the landscape that stands impressively behind the line between the sea and the sky,  all of this is surrounded by sand dunes shaped by the wind.   Therefore, read through this article and learn why Chileno Bay is considered one of the most peaceful sceneries in the world!
Chileno Bay communities
Chileno Bay has developed over the years to grow into a safe and fun community for families and young couples.  As you can find this place nestled in the Cabo corridor, expect any amenities to wonder about besides the views.  Read further on and check this list to find the perfect place for you to stay.  A couple days or many years, there you'll find what fits best your needs and tastes.
Up for some quiet place to spend a beautiful summer? The Hacienda Villa was designed with a colonial-Mexican architecture with a touch of contemporary aesthetics. You can choose from three, four and five-bedroom villas with the best views so you can make it part of your stories. And if you want more, there are also miles of pathways that are used for both walking and bike riding.
Ocean Estates
Did you know you can have an entire acre all for yourself? You can make it yours. They're unbelievable! The vacation home of your dreams in just a short distance from Playa el Tule and the Beach Club, you can build it! And witness the magical coastal views from each estate.
Chileno Bay Golf & Beach Club
Beautiful homes, villas, and colorful haciendas hold Chileno Bay Golf & Beach Club. With 400 privates residences that range in size from 1,200 to 19,900 square feet, it offers either amazing ocean front or unforgettable ocean views.  And the best of all, Chileno Bay takes your safety as a priority, they provide 24-hour security guarding, there's even a neighborhood patrol.
Club Privada
Discover custom half-acre lots that are located on a historical piece of land.  Providing the best in privacy and security, Club Privada boasts guarded and gated security along with three private beaches that are near the only coral reef in Los Cabos.  Besides a great place to live, find here a great place to snorkel.
Park Haciendas
Wanna relax in big taking long walks and still being inside of your property? Park Haciendas' houses are huge! Eight homes to choose, all of them with two master suites in each one. Besides, the location is perfect as they are located near Chileno Bay Club park.
Club Casitas
Located in the heart of the Chileno Bay community, the Club Casitas offer two-bedroom and four-bedroom homes.  Each one of these unique built homes features a wonderful contemporary design.  And also, they provide easy access to the Chileno Bay Beach Club and the Wellness Care Canter.  A whole package of luxury included with one home in Club Casitas.
Chileno Point
And if what you want is something more exclusive, the right place for you is The Chileno Point. Why exclusive? They own the most touching and beautiful views of the Sea of Cortez in all Baja California Sur. They stand where the original Hotel Cabo San Lucas used to be, but only holds 18 legacy homes sites on Chileno Point.
Chileno Bay Golf & Beach Club
Chileno Bay Golf & Beach Club it's a complex of 400 private residences.  Find here a wide range of options.  Going from custom homes, villas and casitas, to inviting haciendas, the choices are endless!  These homes range in size from 1,200 to 19,900 square feet.  And, all of the residences offer either oceanfront settings or spectacular ocean views.  One of the most luxurious options around for sure!
Casitas on the beach
There are five distinct Beach Casitas that's located in an admirable position.  There, you'll find single-story and two-story casitas, with incredible views from their own terraces.  Also with its pools, and spas as part of their amenities both of these options provide a minimum of three bedrooms and three bathrooms inside.
Los Cabos real estate
Many Americans, Canadians, and people from other countries choose to make Los Cabos, Mexico, their home or vacation home.  So, discover how to purchase your dream home in Los Cabos, Mexico by inquiring with Nolan Bonnstetter.  He will be happy to answer your questions and schedule a time to show you around this breathtaking village, just north of Cabo San Lucas.