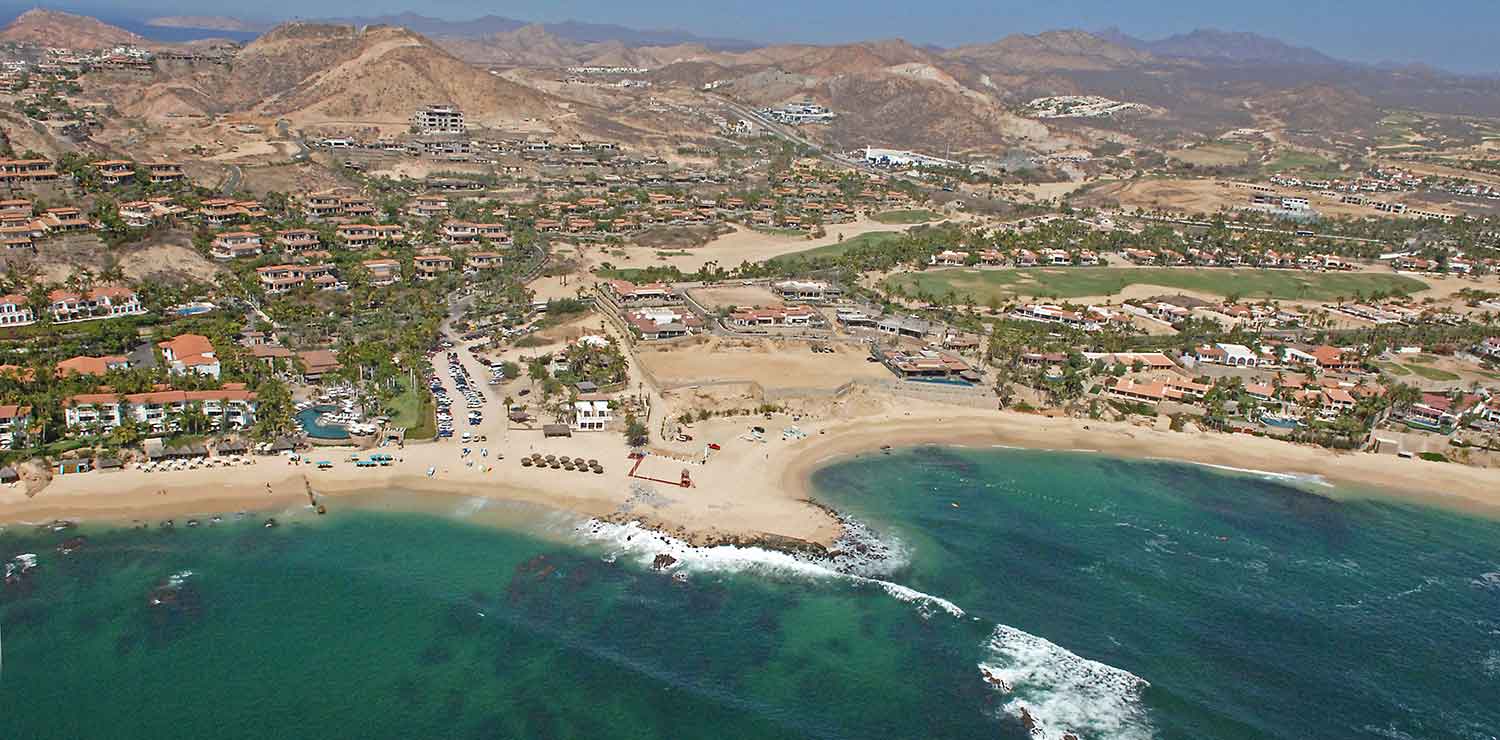 PALMILLA
Find Palmilla in the San Jose Corridor, the heart of the Cabo region.  Set against the mountain landscape and the beautiful Sea of Cortez.  Palmilla gives you incredible residential ownership opportunities!  Established by Del Mar Development, first came the world-renowned Villas Del Mar community.  Afterward, it was all uphill from there, a growing community of great importance in the Cabo region.  Live there the outstanding lifestyle of luxury and commodity in Palmilla Los Cabos.  Keep reading and uncover life on Cabo's most exclusive private residential resort.
The lifestyle in Palmilla
This beautiful complex offers impeccable service and world-class amenities for you to enjoy.  Start living your new Mexican life in Los Cabos.  Read on and see the amenities waiting for you in Palmilla in Los Cabos.  One of the most remarkable features is the Jack Nicklaus designed golf. This is a world-class green for golf enthusiasts.  Don't forget that it's a Blue Flag Certified beach the one you're facing from the complex.  Furthermore, find in there exclusive entrance to shops, restaurants, pools, and spas.  All these amenities are in 28 acres of open park spaces.
Communities in Palmilla
As an important asset of the region, the communities are the best of the best around.  To summarize, find in this list below, more communities in Palmilla.  Los Cabos Agent would be happy to help you find the perfect place for you!  You'll be able to choose from traditional estate homes, single-family homes and condos.  Also, all residences offer indoor and outdoor spaces throughout.  Living in luxury in Cabo doesn't get any better than this.
Villas Del Mar
Villas del Mar brings together thoughtful design, upscale amenities, and superior property management. And lastly, when you know more about these luxury residences, you'll see the level of care and detail that's taken for each.
Located near the original Palmilla Hotel, Villas Del Mar has it all!  There, you can escape to a place of complete privacy and luxury.  It means this is a secluded community overlooking the Sea of Cortez, making the perfect location for a getaway.  To sum up, built with the best craftsmanship, architecture, and landscapes, these villas are just amazing.
Villas de Montana
This is the first multi-family community in Palmilla!  This neighborhood it's beautifully located above the One&Only Palmilla.   This vantage point offers stunning views of the Sea of Cortez.  Consisting of 14 two and three-bedroom units this community is perfect to settle with your family.
Villas de Oro
Villas de Oro is a masterful collection of luxury condominiums and townhomes build along the Jack Nicklaus Signature Golf Course.  It offers an incomparable array of privileges and amenities.  As an owner, you're a member of the award-winning 27-hole Jack Nicklaus Signature Golf Course, and you have access to the legendary, five-star One&Only Palmilla hotel.
Caleta Loma
There, you'll have the opportunity to own within the elite gate-guarded La Caleta neighborhood.  Defined by its many cove beaches on the Sea of Cortez, this community is one-of-a-kind.   Furthermore, available lots feature unobstructed views of Palmilla Bay, Punta Gorda, One&Only Palmilla resort.  As a consequence, these premiere estate-sized home sites are poised on a cliff-side.  This means you'll be overlooking a pristine, white-sand beach and the waters of the Sea of Cortez.
Ocean Nine
Located on the fifth fairway of the Palmilla Golf Club, Ocean Nine is an unmatched community.  To explain, this is a collection of custom home sites known as Oceano Alto and Oceano Bajo.  Find there, within walking distance the One&Only Palmilla hotel, this neighborhoods offer a private getaway.  Likewise, facing white-sand swimming beaches and the nearby and lush fairway views, this place is amazing.
Palmilla Fairways
Here, you'll find a collection of twelve single-family homes and homesites in one of the most desirable locations in Los Cabos.  In addition to proximity to the world-class Palmilla Golf Club, Pamilla Fairways boasts breathtaking views of the Sea of Cortez combined with a natural arroyo.   Also, the neighborhood is within walking distance of the Palmilla Tennis Club and one shopping center.  Start your new luxurious lifestyle in Palmilla!
Property values are raising
Year-after-year, the economic indicators show Palmilla's real-estate values are rising fast.  And, since the market is solid and new improvements and developments are happening all over Los Cabos, this is definitely a solid investment!  Palmilla offers great value and a great location.  Therefore, this is a great time to buy!
Los Cabos real estate
Many Americans, Canadians, and people from other countries choose to make Los Cabos, Mexico, their home or vacation home.  So, discover how to purchase your dream home in Los Cabos, Mexico by inquiring with Nolan Bonnstetter.  He will be happy to answer your questions and schedule a time to show you around this breathtaking village, just north of Cabo San Lucas.