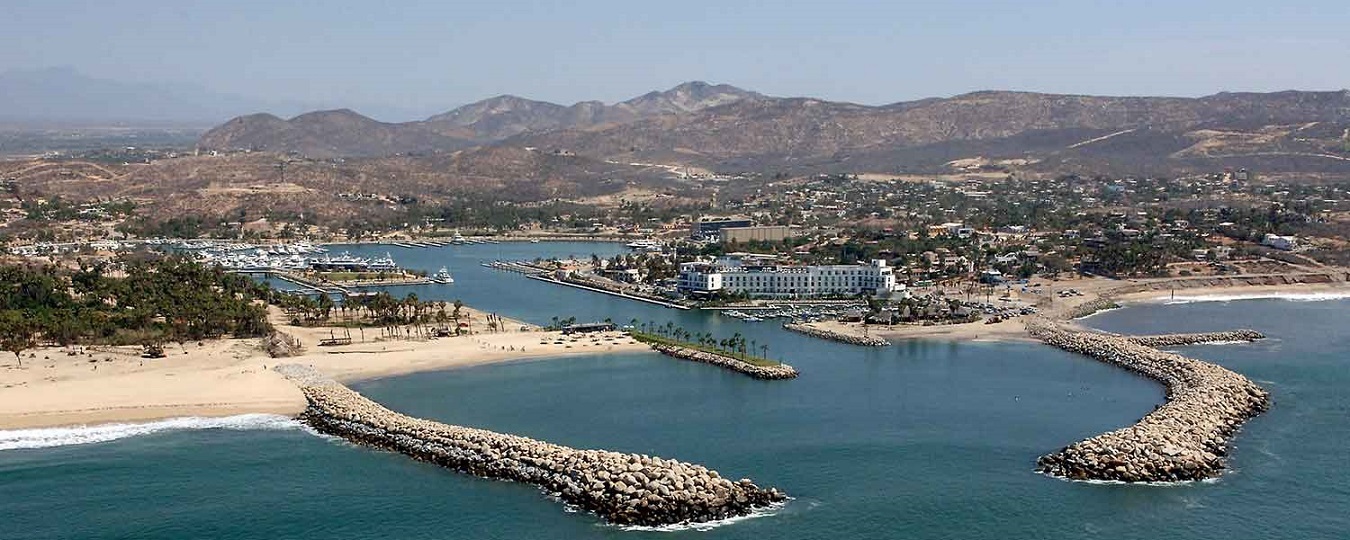 PUERTO LOS CABOS
Looking for a lot to build your dream home?   Puerto Los Cabos is one of the last, large beachfront parcels left in Cabo!  An elevated ridge level gives these properties staggering views you won't get anywhere else.  The available lots are ready with complete utilities and are ready for your imagination to build on.  Also, discover the 2000-acre Puerto Los Cabos golf-resort.  There, you'll find some alluring gated residential communities, each created with its own unique style.  This destination has it all!  Read further on and find all the amenities offered in Puerto Los Cabos in the Cabo region.
This complex boasts the best of everything, and one of the examples is 27 holes of the best championship golf in the world.  There are three courses to choose from.  The first course is a Greg Norman Signature golf course and the other two are Jack Nicklaus Signature courses.  But there's more!  located right on the same site, you can take a tour of the exquisite Wirikuta Botanical Garden and The Sculpture Garden to view local nature and famous Mexican art.  Then, take your family to Dolphin Discovery, which is located in a cove along the coastline within Puerto Los Cabos.  As you can see, you'll never be bored with so many things to do around.  Read on and discover the rest of the amenities in this place.
Condos and villas at The Enclaves
Villa owners are given access to the Ritz-Carlton Director of Residences.  As an owners-only concierge with residential staff, this community is dedicated to meet the needs of you and all of your guests.  Expect the service of a hotel including in-residence dining and catering, butler service, housekeeping, and children's programs.  Not only this but with three miles of private beaches the residents have exclusive access to a marina that accommodates many ships and yachts.
Strategically located halfway up the hill overlooking the beautiful landscape and the spectacular Sea of Cortez, the Enclaves condos are a collection of three and four-bedroom condos.  Inspired by the local designs, these condominiums are a natural extension of the hotel, also with a dedicated team anticipating the residential owner's wishes.  After finding such top-class amenities for your comfort, it's probable you may never want to leave!
Activities within Puerto Los Cabos
Enjoy in Puerto Los Cabos seven days of unlimited golf, golf clinics, fiestas, wine tastings, and Sunday brunches.  Also whale watching, spa services, cooking classes, awards celebration, and a Kids Kamp it's expecting for you there.  Other activities abound for residents and visitors too.  Puerto Los Cabos is home to Wirikuta Botanical Garden, a 12-acre park designed with thousands of cacti and succulent plants from the regional desert.  The Sculpture Garden has a collection of monumental art by some of Mexico's most famous living artists.
Located in an ocean cove, also the Dolphin Discovery has friendly dolphins living in a natural habitat where guests may take part in their dolphin program.  Last but not least, allow yourself to get pampered at Jasha Spa & Salon.  And of course, make sure to round it all off with delicious Mexican-French fusion meal at the award-winning Cafe des Artistes.  Puerto Los Cabos really is a master-planned resort and one of the best in its kind.
Rising property values of Puerto Los Cabos
Year-after-year, the economic indicators show Puerto Los Cabo's real-estate values are rising fast.  And, since the market is solid and new improvements and developments are happening all over Los Cabos, this is definitely a solid investment!  Puerto Los Cabos offers great value and a great location.  Therefore, this is a great time to buy!
Los Cabos real estate
Many Americans, Canadians, and people from other countries choose to make Los Cabos, Mexico, their home or vacation home.  So, discover how to purchase your dream home in Los Cabos, Mexico by inquiring with Nolan Bonnstetter.  He will be happy to answer your questions and schedule a time to show you around this breathtaking village, just north of Cabo San Lucas.