Welcome to Cenit, an idyllic location in the middle of stunning Cabo, where the Sea of Cortez meets the Pacific Ocean. Dive into authentic luxury by experiencing world-class amenities as well as sophisticated and comfortable indoor-outdoor living along with the spectacular scenery of Baja California Sur. You will be delighted and inspired by the countless experiences that await you at Cenit Los Cabos.
Cenit sits perched atop the hill of San Jose del Cabo, nestled between the highway and the Sea of Cortez. This complex will have three towers with a total of 87 units and will offer two- and three-bedroom condos and three- and four-bedroom penthouses. Palmilla will be the first tower to be constructed, this building will count 30 units in total of spacious condos with terraces for enjoying the outdoors, along with our top-of-the-line finishes and amenities. The Palmilla Tower will be delivered in January 2024 and is a major opportunity to obtain pre-construction prices.
Cenit Los Cabos has all the amenities to suit your lifestyle, whether is the business center to manage your business from home or relaxing on a hammock watching the sun go down the horizon. Other amenities will include an event area with a grilling station, an infinity pool and a jacuzzi area, a kid's playground, spa, fitness center, pickleball area, and an amazing sky bar that will sit on the rooftop of Palmilla Tower.
Since it is located in the center of San José del Cabo, about a mile to historic San José downtown and about a mile back to the beach you will live in the perfect amalgam between traditions and culture, shopping in exclusive places, playing in world-class golf courses, as well as everything nature has to offer, such as some of the most beautiful beaches on the Peninsula, Palmilla, Santa Maria or Chileno, ideal for snorkeling, paddle boarding, swimming or simply lying on the beach.
Join Nolan Bonnstetter to take a tour of this brand-new pre-construction development in the heart of San Jose del Cabo and don't hesitate to contact us if Cenit has caught your eye!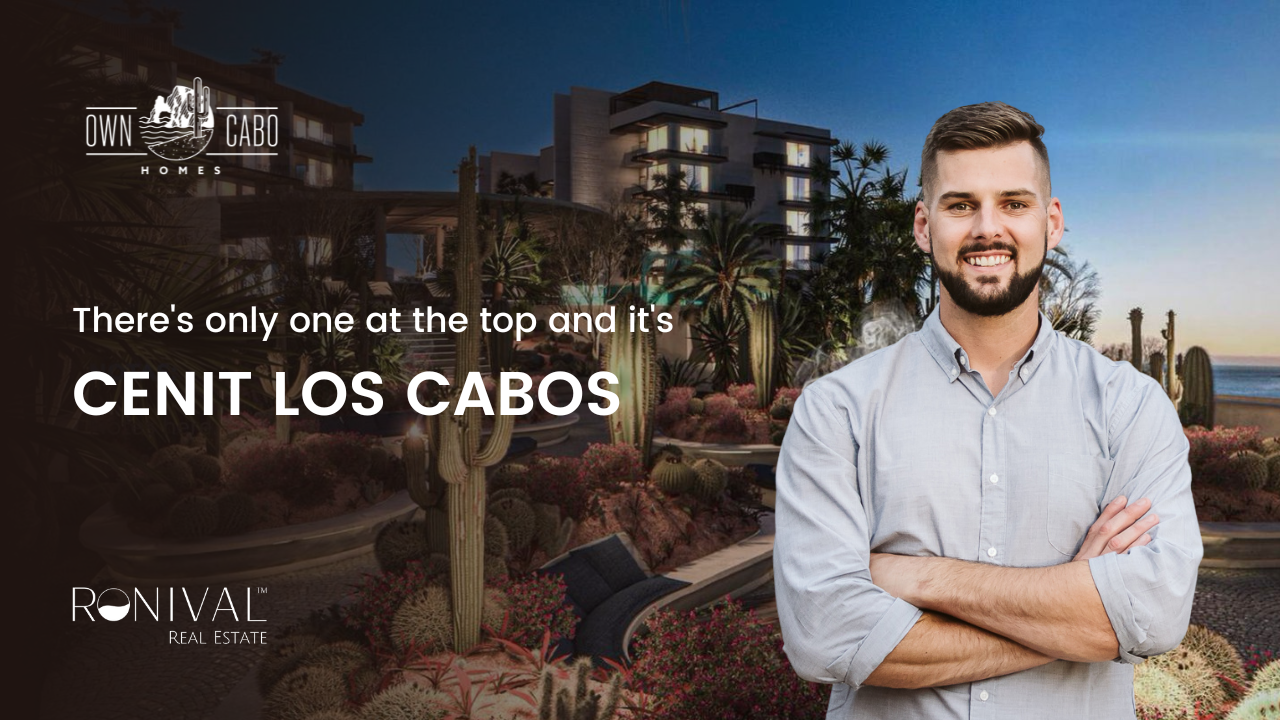 Who We Are 
Own Cabo Homes is a full-spectrum real estate service that assists both local and foreign buyers and sellers throughout the entire transaction process – from search to signature. Having successfully brokered 175+ deals over the past 8 years in residential, commercial, and land sales, we bring a proven track record to the Southernmost tip of Baja California. With local market expertise for both finding and pricing properties coupled with our innovative marketing approach, we're your real estate solution in the booming Los Cabos Market.
What separates us from the rest? 
Our cutting edge technology, period. From the utilization of Matterport 3D Virtual Tours to our premium, pro-grade photographers to our targeted audience advertising, we employ the most hi-tech tools and techniques to make the buying and selling process as smooth, effective, and efficient as possible. To give you an idea of our savvy, we're now even selling homes to remote buyers using our digital capacities alone.
Buyers can rely on our team's expertise in the local market to help navigate the terrain and find their dream property. We will work closely with you throughout the entire closing process. From negotiating the sale through inspection and due diligence, until the moment you walk through the doors of your next home, we'll be right there with you every step of the way.
Sellers will be supported by our extensive regional network, local market expertise and renowned reputation to reach a wider audience to close their properties quickly. This includes a comprehensive database of interested buyers we've built over the years. From pricing and listing through all negotiations, we will ensure that your property is sold at the highest price possible.